Shenendehowa School District
A Great Capital Region School District
The focal point of the school district is its sprawling 232 acre main campus, located at 970 Route 146 in Clifton Park. The campus is home to Shenendehowa High School, the district's three middle schools and four of the eight elementary schools. The remaining four elementary schools are located within the regions of Clifton Park that they cover. There are full cafeterias in each school.  Click here to see a list of homes currently for sale in the Shenendehowa school district.
Shenendehowa Academics
21st Century Learning and Technology Integration
Learning at S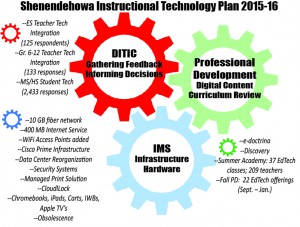 henendehowa is focused on the deep and meaningful study of content areas through innovative practices including communication, collaboration, critical thinking, and creativity. Learning in the 21st century is enhanced through the integration of technology, capitalizing on its potential to transform and modernize the educational environment. Technology often helps to stimulate intellectual curiosity, increase student engagement, and replicate the manner in which students and adults seek information and collaborate in their communication and work.
Video about the innovative practices taking place at Shen.
Student Data and Assessment Dashboard
In an effort to be more transparent and make information more accessible, Shenendehowa has compiled the most recent statistics from the N.Y.S. Education Department Report Card and other sources into one document referred to as the "Dashboard."
New York State Testing Program
To provide schools, teachers, and parents with an assessment of student achievement, New York State has developed the New York State Testing Program. These standardized tests challenge students to demonstrate their knowledge and skills in the core subjects.
In New York State, all public school districts give state tests in English language arts and math to all students in grades 3-8. In addition, all fourth- and eighth graders must take a science test.

High School students in New York State are required to pass five Regents exams in order to graduate — in English, Math (any one), U.S. History & Government, Global History and Science (any one).
Information about Refusal to Take the Test
The district fully endorses and supports the use of diagnostic assessments as a part of a comprehensive educational process to measure ability, achievement, and readiness and to be used for guidance purposes.
Testing provides an evaluation of content mastery and skills in various courses of study and is used to shape future instruction and reflect on instructional practices. Assessment data is critical to forming a complete understanding of a student's academic needs, such as Academic Intervention Services (AIS) or acceleration/enrichment.
Tests at the elementary and middle school level provide students with an opportunity to get used to and practice standardized testing. It would be detrimental for students if their first exposure to standardized tests was the high-stakes Regents exams required for graduation.
Specific to NYS assessments and in accordance with the federal requirements and Sections 100.3 and 100.4 of the Commissioner's regulations, there is no provision  that allows parents to opt their children out of state tests.
If a student refuses to take an assessment, the student will be removed from the testing room so as not to create a distraction for other students. The student will be allowed to do school work in another location. Parents are encouraged to help prepare students to take assessments by sending reassuring messages and taking simple steps such as ensuring a good night's sleep and eating breakfast. If a student has anxieties about testing, the district can provide advisement or counseling support, as well as possibly looking for more conducive ways to complete the assessment.
Learning Standards
Shenendehowa's curriculum is based on the New York State Common Core Learning Standards (CCLS). These standards are internationally-benchmarked and evidence-based standards, designed to provide a consistent set of expectations for what students should learn and be able to do. The goal is to ensure that each student is on track for college and career readiness. For more information go to www.engageny.org
Professional Development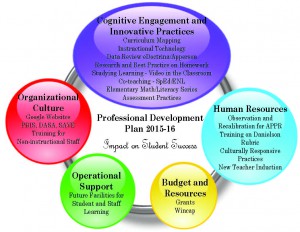 Professional development at Shen is focused on inquiry based student engagement.
The Center for Innovative learning is the vehicle by which the district achieves its commitment to provide a continuum of effective strategies, opportunities, programs and services that support teaching and learning.
Center for Innovative Learning website
The Shen Technology Resource Assistance Center (TRAC) helps Shen's teachers integrate technology into their classrooms.
Shenendehowa Athletics
Home of Champions
Shenendehowa Athletics- Home of Champions
442 Suburban Council Championships, 268 Section II Championships, 60 Regional Championships and 36 NYS Championships.
Shenendehowa's athletic teams are called the Plainsmen, and their mascot is the stallion. They participate in 34 varsity sports over all seasons, as well as competing at junior varsity, freshman, and modified levels in many of these sports. Fall Varsity Sports include boys cross country, American football, golf, soccer, and volleyball, as well as girls cross country track, field hockey, soccer, swimming and diving, tennis, volleyball, color guard, and cheerleading. In the winter season, the plainsmen compete in boys and girls alpine and cross-country skiing, basketball, bowling club, and indoor track, as well as boys wrestling, swimming and diving, and ice hockey, and girls gymnastics and cheerleading. The spring season includes boys and girls track and field and lacrosse, as well as baseball and tennis for boys, and softball for girls.[14]
Although not officially associated with Shenendehowa Athletics, Friends of Shenendehowa Crew, Inc. sponsors crew teams at the Modified, Freshmen, and Varsity levels which are open to Shenendehowa students
Shenendehowa Athletic Facilities
Shenendehowa has top notch facilities that include a synthetic turf field, fitness center and weight room, aquatic center and numerous gyms and fields for athletic competition.
Athletic Trainer
The athletic trainer for all sports is Rick Knizek. He is located at High School East every day. Please contact Rick directly by e-mail at knizrick@shenet.org or by phone at 881-0600 extension 61588 for questions or schedule information.
Spectator Courtesy Code
It is the belief that good sportsmanship on the part of spectators at high school athletic contests is as important as good sportsmanship on the part of the players. The following guidelines for spectator conduct are expected as a means of continuing and strengthening the ties that exist between competing schools. Spectators are encouraged to be actively involved in positive behaviors that promote enthusiastic support for our interscholastic teams. Spectators should cheer for our teams rather than against others. Discourteous or unsportsmanlike behaviors are unacceptable. No spectator should be involved in any of the following actions:
No one shall throw any object on to the playing surface. This action is equally dangerous to Shen athletes, other participants and spectators.

No one shall use unacceptable language when cheering or engage in any cheer that is demeaning to a team or an individual (players, coaches, referees, or other spectators)

No sound producing devices shall be used. This includes horns of any type, whistles, drums, etc.
Click the Photo to View a List of all the Clifton Park, NY Homes for Sale!